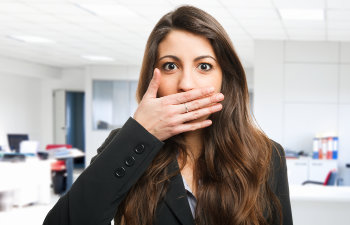 Halitosis — aka chronic bad breath — isn't just embarrassing; it can be debilitating. Especially when it interferes with your personal life or career goals.
But having bad breath isn't something that you can simply cover up with breath mints, gums, or strong mouthwashes. Rather, it usually indicates that there's a bigger factor at play.
Confidential Advice for Bad Breath
Dentists are experts on oral health topics like bad breath. So if you have a question about managing halitosis, your dental office is the best place to go. You're not the only one who struggles with bad breath, so rest assured knowing our dental provider is here to offer reassuring yet confidential advice on how to treat this embarrassing problem.
Depending on your oral health and medical history, your halitosis could be caused by underlying periodontal disease or an undiagnosed health problem. In most cases, it's related to periodontal infections around the roots of your teeth. These areas can't be cleaned on your own. Instead, our hygienists will use special equipment to reach the odor-causing buildup to give you a "blank slate" to start over with. Trying to cover it up with mints or rinses will only make it worse.
If your gums are completely healthy, you're cleaning your mouth and tongue daily, but you still battle halitosis, it could be time to speak to a medical provider. Issues related to gastrointestinal health or undiagnosed diseases have been known to occasionally cause bad breath as a side-effect.
Is it Time for a Cleaning?
Has it been six months or more since your last dental checkup? Your halitosis could be due to tartar accumulation since your last cleaning. Call Nicole Barnett, DMD to schedule your next appointment.